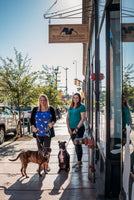 Buffalo Barkery originated from the passion of two animal-loving sisters-in-law. Their goal was to create wholesome, homemade biscuits for their beloved pups, leading them to develop recipes centered around Buffalo-themed biscuits and celebration cakes. Your furry companion can now indulge in our delectable treats, such as Beef on Weck, Buffalo Chip, Buffalove Pumpkin, and Chicken Wing biscuits. Each of our dog biscuits is carefully handcrafted in small batches, using only human-grade ingredients. Our mission is simple yet heartfelt: to provide a hearty and delightful snack for your four-legged friend. It's incredible to think that 35 years ago, when a 5-year-old Maggie met her big brother's new girlfriend Cheryl, they had no idea what the future had in store. We cherish every moment with our extended family of loyal customers and their pets.
Feel free to drop by the Barkery anytime to take a picture in front of our seasonal backdrops or our Happy Birthday & Gotcha Day setup. No appointment is necessary, and these photo opportunities are completely free of charge.
Stay tuned to our social media accounts for exciting monthly fundraising events that you can enjoy with your pup! From photo shoots to paint-with-your-pup activities, these events aim to raise funds for the City of Buffalo Animal Shelter or Fix-A-Bull WNY, promoting causes close to our hearts.
In 2016, we established our brick-and-mortar store with a strong focus on providing customers with high-quality products, many of which are made in the USA. Our product range caters to cats, dogs, and animal enthusiasts alike.
If you're in Western New York, you can find our custom biscuits at several locations, including Overwinter Coffee, Camp Bow Wow Tonawanda, Dogs Eat Rite, and OSB Cider. We are thrilled to share our love for animals and delicious treats with you and your furry companions.
Location
47 Allen Street
Buffalo, NY
Store Hours
Tuesday-Friday 11:30-5:30
Saturday 11:00-4:30
716-984-1060
info@buffalobarkery.com