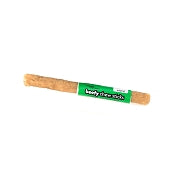 Frankly Pet Collagen Chew Sticks are made from USA Cattle without any chemicals, preservatives, or artificial ingredients. Collagen is easier to digest than traditional rawhide, and can strengthen joints while keeping their nails and coat healthy. Each chew is sourced from USDA cattle born and raised in the USA. These rolls can help support good dental hygiene by scraping plaque and tarter off the teeth. Frankly Pet takes safety seriously and is Certified by BRC Global and the Global Food Safety Initiative. Each chew is fully traceable back to its source.
Product Benefits:
Made & Sourced in the USA!
USDA Cattle
Promotes Healthy Oral Hygiene
Long Lasting Chew
Natural Alternative to Rawhide
Original Beef Flavored
Natural Source of Collagen
Size - 7"
Beef Corium, Beef Hide, Filtered Water