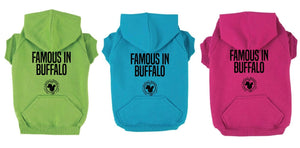 You know your pet is a big deal, now it's time to show the world that your pet is Famous in Buffalo!

Sizing Guide: Measure length of your pet's back from the base of the neck to the base of the tail. If the measurement is between sizes, or if your pet has a stouter build, select a garment one size larger for a proper fit. 
Size and Length
XS-8" S-12" M-16" L-20" XL-24" XXL-30"