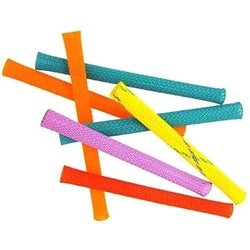 Turn a cat into a kitten again with Super Kitty Boinks. This clever flexible tube toy springs into action
and makes cats go wild. When compressed Super Kitty Boinks shoot up to 30 feet, providing cats
with tons of exercise and excitement. Cats can't seem to get enough of this colorful mesh toy.
Size : 5.75" x .25" x .25"
An assortment of colors will be shipped to you. We can't guarantee what color toy you will get.